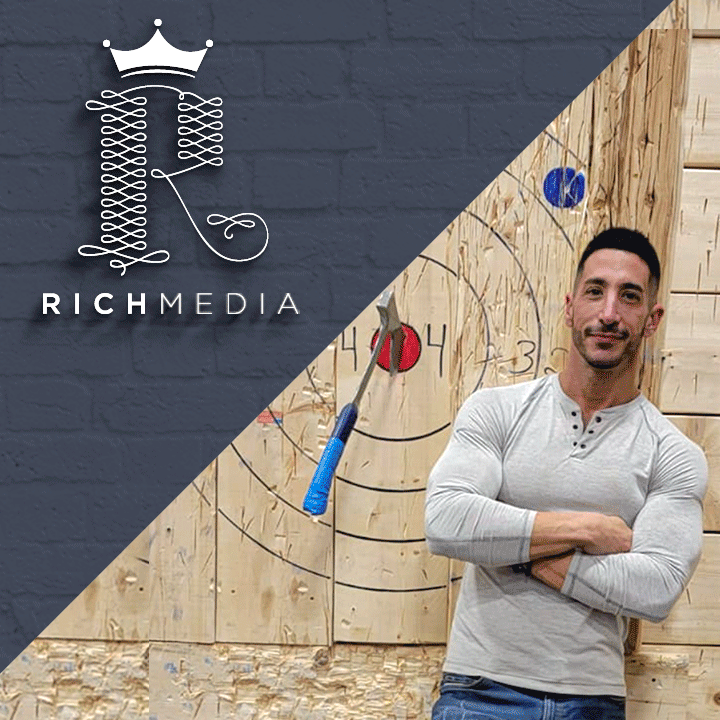 RICH MAFFEI
WEB | PRINT | LOGO » DESIGNER
A designer knows he has achieved perfection not when there is nothing left to add, but when there is nothing left to take away.
I am represented by the power of ideas, honesty, and the pursuit of beauty. I push creative boundaries dancing with trends, culture, and technology.  I have acquired a keen understanding about the creative process, from concept to completion. Equally charged whether working with mom-and-pop shops, or large enterprises. I am passionate about building and developing the DNA for brands. Intrigued by what makes up your ethos. How your identity is felt. Searching for the secret ingredients inside the potion that allows your brand to pop with a purpose. Those are the traits that embody my code and skill sets.
I am continuously striving to keep my craft Rich in caliber, Rich in creativity, and Rich with innovativeness. All with the simple goal of evolving with you, while upholding the integrity of my own brand, Rich Media™.

phone : 914.815.5213
email : richmaffeidesign@gmail.com
website : http://richardmaffei.com
address : Westchester, New York
WEB DESIGN
Design, develop, and maintain websites with custom-built WordPress installations that uniquely represent brands.
PRINT DESIGN
Design concepts for various marketing collateral such as ads, menus, packaging, direct mail, signs, brochures, cards, etc.
LOGO DESIGN
Create logos that capture the DNA for brand identities. Executing unique and thorough design explorations to establish a look and feel.
99
Photoshop
19+ years of experience in Adobe Photoshop
99
Illustrator
19+ years of experience in Adobe Illustrator.
96
HTML
18+ years of experience in HTML coding.
93
CSS
12+ years of experience in CSS coding/stylizing.
92
WordPress
5+ years of experience in WordPress coding.
88
InDesign
8+ years of experience in Adobe InDesign.
I'm available for Your Project!
Recent Gigs

Web Designer | Print Designer | Logo + Brand Strategist | Illustrator

Designed, developed, updated, and maintained multiple WordPress and custom-built websites for various clients. Designed concepts for various Marketing Collateral such as: POS, Print Ads, Direct Mail, Packaging, Signs, Brochures, Cards, etc.

2006-PRESENT

Web Designer

Designed, updated, and maintained multiple Drupal websites for LLS including: lightthenight.org | teamintraining.org | studentseries.org

2016-2017

Web Designer | Print Designer

Designed, developed, updated, and maintained multiple WordPress and custom CMS websites for various clients. Designed concepts for various Marketing Collateral such as: POS, Print Ads, Direct Mail, Packaging, Signs, Brochures, Cards, etc.

2010-2013

Web Designer | Print Designer | Art Director

Created design concepts for various Marketing Collateral such as: POS, Print Ads, Direct Mail, Packaging, Signs, Brochures, Cards, etc. Developed ideas, web programming, and created graphics/animations for multiple media platforms.

2001-2006

Education

Purchase College

BA: Major - Art + Design | Minor - Fine Arts

1998-2001

Alfred University

School of Art + Design

1997-1998
Discuss

Kick off meeting or call to discuss clients goals for their company or brand.

Sketch

Broad stroke whiteboard sketches to brainstorm initial direction & compositions.

Wireframe

Develop wireframes that will serve as a blueprint for clients' web or print project.

Design

Design creative layouts & mock-ups with established or new look & feel.

Deliver

Hand off final polished & approved project to the happy client. 🙂